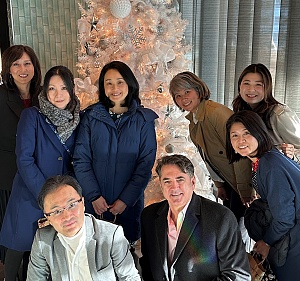 As the year comes to a close, Metrolex IP Law Group is celebrating the holiday season and reflecting on another successful year thanks to our wonderful clients and staff. Our annual Christmas lunch or "忘年会" (bōnenkai) is a chance for us to come together as a team, enjoy each other's company, and celebrate the end of the year!
This year, our Christmas lunch was held at Eddie V's Prime Seafood, a local restaurant in Tyson's Corner Virginia in the DC area. We planned an afternoon of great food, music, and comradery.
As we look back on the past year, we are so grateful for our outstanding clients, without whom we would not be successful, we're proud of everything that we've accomplished as an intellectual property law firm for our clients. We navigated complex legal issues and overcame difficult challenges for our clients, launched a new website with the assistance of 321 Web Marketing, our outstanding web development and marketing company, and we continued to grow and evolve as a team.
We have forged some great relationships and recently expanded our client base to include another world-famous maker in the area of robotics. We're so grateful for these developments and excited for what the future holds for Metrolex IP Law Group. We're looking forward to another successful year. Please have a wonderful Holiday Season and a happy New Year! We're so lucky for the opportunity to work with such exceptional clients and such a talented and dedicated team.
Many thanks and deep gratitude to all.